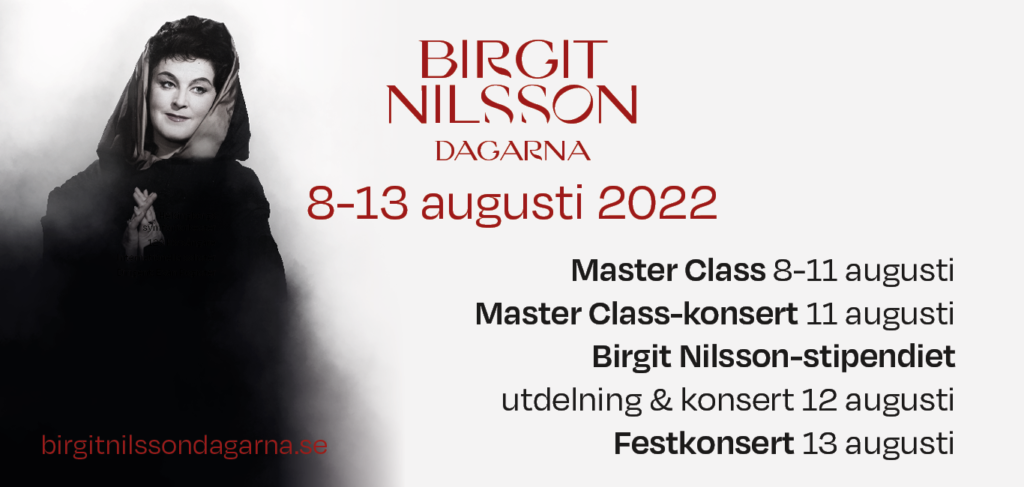 Birgit Nilsson Days 2022 on 8-13 August, kicks off for the fifth year in a row in the big opera star's home area in Västra Karup. This year, the concerts take place at three venues. In the Birgit Nilsson hall at Ravinen, in Västra Karup's church and at Birgit Nilsson Museum.
The Birgit Nilsson days begin with a Master Class for promising opera singers on 7 -11 August and are led by court singer Hillevi Martinpelto and pianist Elisabeth Boström and assistant pianist Jacob Lidåkra. With an audience ticket, you can take part in the teaching on August 8-10, 11-16. The work culminates in a closing concert in Birgit Nilsson's hall on 11 August at 18:00.
The awarding of this year's Birgit Nilsson scholarship with chamber concert will take place on 12 August at 18:00 in Västra Karup's church. At the grand piano Elisabeth Boström. Speaker Stefan Johansson. This year's Birgit Nilsson Fellow will be announced on 21 April.
Saturday, August 13 at 17:00 is the long-awaited outdoor concert at Birgit Nilsson Museum – a concert with extracts from four operas from Birgit's repertoire performed by opera soloists, about a hundred choir singers, Helsingborg Symphony Orchestra under the direction of conductor Evan Rogister. Speakers are Mark Levengood.
Book tickets for the Birgit Nilsson Days 2022 at Julius Biljettservice