The purpose of the Birgit Nilsson Society is to keep the memory of one of the greatest singers and most admirable voices in the history of modern opera, and to help Birgit Nilsson's unique singer deed kept alive. The Birgit Nilsson Society also brings additional knowledge of her achievements in developing the art of opera.
The Birgit Nilsson Society was founded at the same time as the opening of the Birgit Nilsson Museum in Svenstad, May 23, 2010. It was formed by the initiative of Bengt Hall, former managing and artistic director of Malmö Opera and Chairman of the Birgit Nilsson Foundation, and Ingemar Olander, former Chairman of Operakonstens Vänner i Skåne (OVIS) (Friends of the Opera in Scania).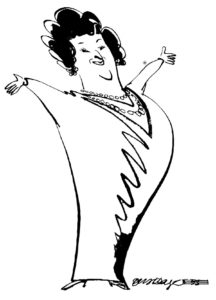 Birgit Nilsson Society works closely with Birgit Nilsson Museum, once Birgit Nilsson's childhood home in Svenstad. The museum is a place dedicated to our great opera star and open to visitors.
Birgit Nilsson Society and Birgit Nilsson Museum jointly arrange a series of lectures and concerts every summer and organize every year a Master Class for professional singers under the direction of a well-known opera singer.
Birgit Nilsson Society aims to be an active and lively society. All members are therefore most welcome to give comments and to share ideas and thoughts.
Welcome as a member!
Click here for membership and see the benefits offered.
Birgit Nilsson
Birgit Nilsson (1918-2005) was one of the greatest Opera singers of the twentieth century. She grew up in Svenstad in Västra Karup parish, where she began to be discovered by singing teacher Ragnar Blennow. She studied at the Royal Academy of Music in Stockholm and made her debut at the Royal Opera in Stockholm in 1946. Her international career led her to the biggest stages in the world – the Vienna State Opera, La Scala in Milan, the Metropolitan in New York. She was appointed court singer in 1954, became a member of the Royal Academy of Music in 1960 and was named professor in 1998. Birgit Nilsson's strong roots in the area became especially clear when the municipal council in Båstad in 2020 established and municipal flag day on her birthday on 17 May.
Photo: private
Read more about Birgit Nilsson on her official website: birgitnilsson.com